Published June 20, 2017, by Mologadi Makwela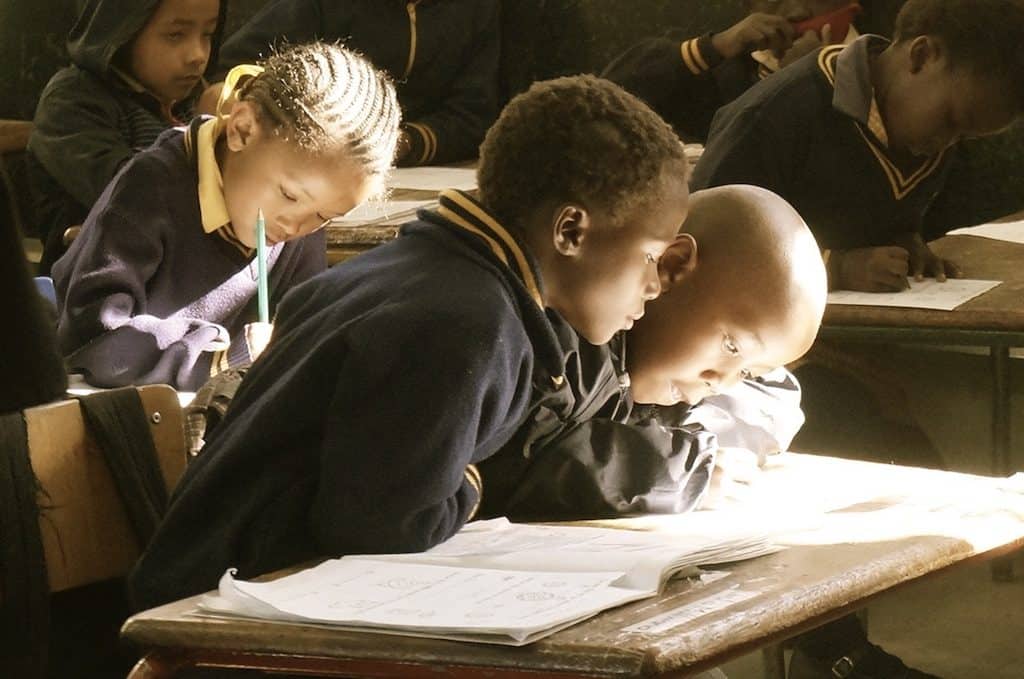 The TEARS intervention strategy aims to instill good lifestyle and eating habits into school learners to address the growing crisis of lifestyle disease in South Africa.
Collaborative research involving local and international researchers has created an intervention strategy to help improve the diet and lifestyle of schoolchildren in South Africa.
Referred to as TEARS (theory, education, application, research, satisfactory outputs), the intervention strategy aims to instill good lifestyle and eating habits into school learners to address the growing crisis of lifestyle disease in South Africa.
School children in informal settlements and rural areas are negatively affected by high levels of poverty, made worse by poor healthcare coverage. This means maintaining healthy lifestyles remains a challenge. While children in these communities have faced problems of undernutrition and malnutrition for many years, lifestyle diseases like diabetes and obesity are more recently causing major health concerns in South Africa.
These serious issues cannot be dealt with in isolation, as they can affect teaching and learning in these communities by impacting the learners' physical activity, nutrition and social well-being. Led by Professor Peet du Toit, Professor Ronel Ferreira and Ms Gerda Gericke of the University of Pretoria(UP), Professor Sanford Rikoon of the University of Missouri and researchers at Fordham University in New York, the researchers believe in addressing these components to facilitate a better learning and teaching environment.
"We created a manual  for schools to empower the children and support their well-being and promote health interventions," explains Professor du Toit. "At the same time, university students can use the platform to further their careers, increase their research output and present at conferences." This manual will be available at the end of August 2017.
The team conducted this research project at three township schools (Grades 4 to 6) in the Bronkhorstspruit area, and two schools (Grades 1 to 3) in the Pretoria region. Breaking down the TEARS model into its component parts shows how du Toit and team went about their research intervention.
'T' stands for Theory which is the driving force behind the idea to empower children at these rural schools to help drive social change in their communities.

'E' stands for the Education that du Toit and team have provided to increase the children's emotional functioning, nutritional status and physical activity levels.

'A' represents Application of the aforementioned education, which was achieved through testing and evaluation days in the schools.

'R' represents the Research that was conducted using data collected at schools; this was applied to develop a suitable intervention plan that would support positive change in these communities.

'S' represents the Satisfactory output in the form of a multidisciplinary health promotion intervention called WinLife (Wellness in Lifestyle Intake Fitness and Environment).  WinLife focussed on the nutrition, physical fitness and emotional function of the children in the programme.
Unlike previous similar projects that left after conducting their research – with no intervention afterwards – Du Toit and his team did things differently by following up with the WinLife intervention. The researchers also applied the same principles in New York schools, and du Toit hopes to compare SA and US data on school interventions.
"We can compare our combined data and then go to the Department of Basic Education in South Africa as well as in the US and show them the difference that we have made with our pre- and post- test research approach, as well as with the intervention," he says.
The WinLife intervention plan spanned six weeks when they would go back to the schools to give the children advice on nutrition, social well-being, and physical activity. The researchers formed groups with the children to show them how they could do the exercises at home as well.
Prof du Toit and the team noticed a big difference in the children's knowledge about nutrition, physical activity, and social well-being. The researchers also noticed differences between the pre- and post test data.  An example of this is a shown improvement in muscle endurance, body compostion and cardiovascular fitness levels of the children.
The project has been such a success that the parents of learners involved in the research specifically requested more sessions of this nature. This sentiment was shared by the teachers and the principals of the participating schools. This research forms part of special projects undertaken by researchers affiliated with the DST-NRF Centre of Excellence in Food Security.