Published December 27, 2017, by Stephen Devereux
The range of definitions and attitudes about difficult partnerships are premised on a dialectical view of actors in the system – 'good guys versus bad guys', 'us versus them'. But taking an oppositional position makes it difficult to achieve consensus.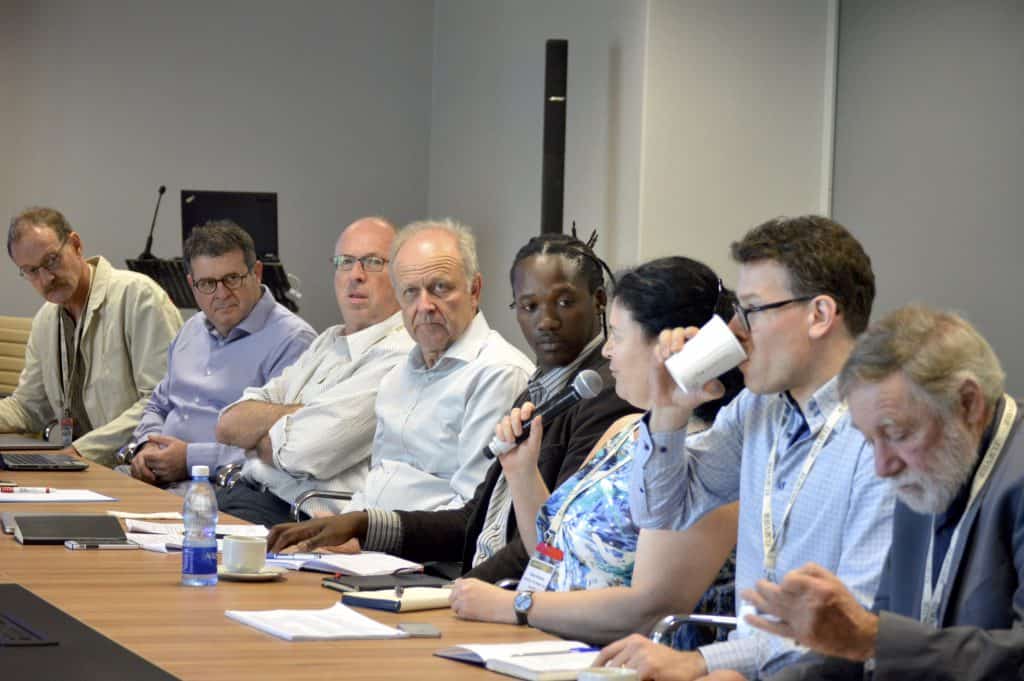 At the Global Food Security conference recently held in Cape Town, Julian May (Director of the Centre of Excellence in Food Security) convened a discussion on 'Difficult Partnerships', in response to a pre-conference controversy around Elsevier accepting sponsorship from Nestlé for the conference. (This money was returned to Nestlé following protests and threats to boycott the conference by several prominent academics.)
During the fascinating discussion, one speaker defined difficult partnerships as "interactions with powerful actors and unjust systems". In relation to the food system, several possible 'postures' were identified, including:
neoliberal ideologues who argue for free trade and defend 'free markets' out of ideological conviction;
consultants who are contracted by powerful actors in the system and therefore struggle to 'speak truth to power';
reformist agents that bring diverse public and private actors together in 'good governance' policy workshops;
corporatist NPOs who engage with the powerful actors and often share their values and lifestyles;
progressive NGOs who refuse to take corporate sponsorship under any circumstances; and
radical social movements that engage in street protests and other forms of oppositional activism.
So where should we each position ourselves on this spectrum? This range of 'postures' is premised on a dialectical view of actors in the system – 'good guys versus bad guys', 'us versus them'. But taking an oppositional position makes it difficult to achieve consensus.
One local activist referred to work he did trying to bring Western Cape farmers and farm workers together. By pointing out to both sides that they earn only 15% of the agriculture value chain between them whereas retailers capture 50%, a strong argument was made for farmers and farm workers to set aside their differences and work together to negotiate a better deal in the food system.
The dilemma that academics and scientists face was posed as follows: by engaging with the system and powerful actors are we legitimising it? Is this a form of accommodation? We know that powerful actors will only make small changes, because big changes are not in their interests. There is always a risk that activists might be co-opted and corrupted, or at least compromised, by engagement and accommodation.
Another speaker explained why he is sceptical about civil society engagement with powerful actors, having been co-opted as an academic to several national and global policy forums. He argued that civil society participation in such forums is 'tokenism' most of the time. Powerful actors co-opt civil society mainly to show that they have consulted everybody, and to endorse positions and decisions that have already been taken – nothing that civil society says makes any real difference.
Here is one story that illustrates this. The owner of Longlands in Stellenbosch has built a 'Country Estate' with luxury houses selling for up to R17.5m each. To secure municipal planning permission for this development he promised farm workers living on his estate that he would build new houses to replace their existing houses, which are in an appalling condition. For 10 years the farm workers negotiated with Francois Smit to keep his undertaking to the workers, but he consistently reneged on his promises. Nothing actually happened until recently, when the Longlands workers and Women on Farms Project, a local NGO that supports their campaign, took to the streets of Stellenbosch and burned tyres and stopped the traffic. Then the Mayor of Stellenbosch got involved and sat down with the farm workers, and the problem is now finally being resolved.
This strategy illustrates what one participant in the discussion described as a 'third way', which is to engage with difficult partners while retaining the option of opting out and campaigning against them, if talking doesn't yield the desired change. It's all about identifying the most effective way of achieving the change you are trying to achieve. If engagement doesn't work, escalating to radical activism is entirely justified, using whatever 'weapons of the weak' are available, in the struggle for human rights and social justice.
Stephen Devereux is the SARChI Chair in Social Protection for Food Security based at the University of the Western Cape, and Research Fellow at the Institute of Development Studies (IDS) at the University of Sussex in Brighton, UK. He writes in his personal capacity