Published January 11, 2018, by Mologadi Makwela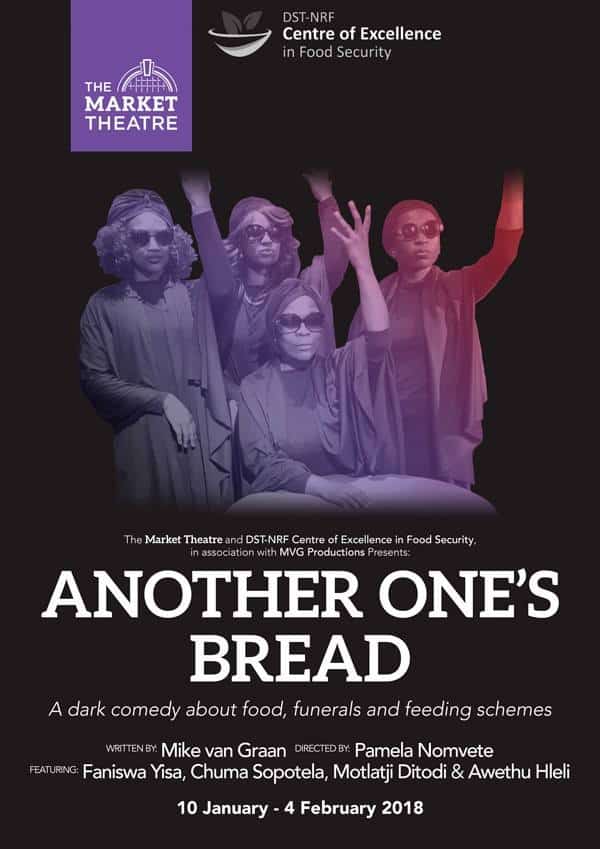 The complex dynamics of food insecurity, nutrition and hunger will play out on stage this month, in a new theatre production written by renowned South African playwright, Mike van Graan, and directed by award-winning veteran TV actress, Pamela Nomvete.
Described by Van Graan as "a dark comedy about funerals, feeding and faking", Another One's Bread serves up the complexities associated with acquiring food and nutrition using humour, fact and the downright outrageous.
The show runs at 20h15 Tuesdays to Saturdays and at 15h15 on Sundays.
Commissioned by the DST-NRF Centre of Excellence in Food Security (CoE), the play explores various themes related to hunger in the context of the relationships between four women. What keeps these disparate women together is their membership of 'The Substitutes', a group of professional mourners, who collect leftover food at funerals for school lunches.
Directed by Pamela Nomvete (currently making waves in the television series, Lockdown), the production boasts an all female cast featuring Faniswa Yisa, Chuma Sopotela (recently announced as the 2018 Standard Bank Young Artist for Performance Art), Motlatji Ditodi, Awethu Hleli and Mokokobale Makgopa as stage manager.
The play takes its title (Another One's Bread) from the Afrikaans expression "een man se dood is 'n ander man se brood" (One person's death is another person's bread).
The play falls within the CoE's Food Contestation thematic area of research which – through the Food Politics and Cultures, as well as the Symbols research projects – explores human relationships to food, the power dynamics around food production and access and the meanings that food acquires in particular cultural and social contexts.
CoE Director, Professor Julian May said: "The specific goal is to research the human, cultural, ethical and spiritual environment within which barriers and opportunities to the achievement of food security and nutrition take place. In particular, a goal of the project is to increase our understanding of the role played by gender, identity and power in the food system."
Tickets are available via Webtickets or from the Market Theatre's box office 011-8321641.