Published October 19, 2015, by Dr Arundhatie Kundal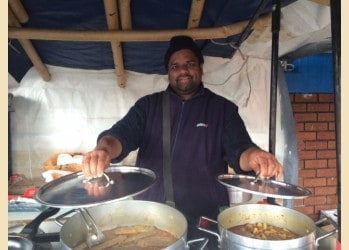 The informal economies is important for achieving food security for the urban poor. Street food is a respectable means of livelihood for the poor and marginalised.
Come October and food seems to be on everybody's minds. Running into its 35th year, the Food and Agriculture Organization of the United Nations (FAO) celebrates its World Food Day with over 150 participating countries. With many others commemorating October as the Food Security Month, the focus seems to largely center on the dynamics of rural poverty and hunger. But hunger is an all pervasive factor and henceforth the 2030 Agenda for Sustainable Development to eradicate hunger and poverty is not just the prerogative of the rural poor but is a proliferating urban malice. Understandably along with attempts to achieve Zero Hunger, food security and its sovereignty is not about class and spatial divides but also about the urbanization of poverty and a gargantuan proportion that the world needs to sit up and notice.
Nations are struggling to absorb the migrant labour force into its manufacturing economy often without any social benefits, aggravating urban unemployment, slum expansions and widening social inequality. This widening disparity in income levels in urban areas is the byproduct of the continued rural –urban exodus, a shrinking industrial sector and an expanding zero skill labour generation. Today more than half of the world's people live in cities, with over 90 per cent of urban growth occurring in developing countries.
Complicating it further, the next two decades will mark the enormous burgeoning of the Global South's urban population. More than 60 per cent of South Africa's population inhabits its urban spaces with the rural population struggling to purchase their food, their traditional trade drastically altered by the increasing role of formal and informal food retailers in providing access to food. Urbanisation has increasingly managed to banish open access to fresh produce while furiously marketing affordable yet highly processed food. Uneasy statistics reveal that about 13 million South Africans go to bed hungry every day, with the hungriest people in Cape Town (80 per cent) and Msunduzi, in Kwazulunatal ( upto 87 per cent). A five year old study by the University of Cape Town's African Food Security Unit Network in 11 cities in the Southern African Development Community has eroded the urban myth of hunger being an exclusively rural phenomenon. It exposed that food crisis in the cities is more serious than imagined. Although a higher proportion of rural households face food insecurity and in scalar terms of mild to moderate, more urban households fall victim to severe food insecurity.
Whilst South Africa remains food secure at a national level, there is disturbing evidence that  at the household level there exists a high prevalence of hunger related to socio economic factors in both urban and rural areas with incidences of stunting and micronutrient deficiencies among children alongside increasing levels of obesity and overweight in older children and adults. A few key statistics from the SANHANES-1 survey (South African National Health and Nutrition Examination Survey) show that overall 45.6% of the population is food secure; the largest percentage of participants who experienced hunger were in urban informal (32.4%) and in rural formal (37.0%) localities. The cutting back on meal sizes and numbers with no nutritional intakes is a grim reminder that urban households are plagued by severe food insecurity.
So what do the urban poor eat? While Urbanisation has steadily increased the dependence on buying food, eroding access to nutritional demands with market forces controlling prices of essential goods. Numerous studies documenting the impact of globalization on food patterns argue that it is the notion of "aspirational eating" has pushed diets to less nutritional but more global diverse foods. So while the gym trotting class will opt for millet rich meal, a migrant old farm hand will probably turn to the neighbourhood street food vendor and occasionally to the nearest burger station. According to theFAO, about 2.5 billion people around the world eat street food on a daily basis. Street food has often come about as a reaction to people's food needs in the cities often providing affordable ready to eat meals. With their unique characteristics of preserving traditional cooking methods by utilizing local produce, street food now has to compete with food commerce.
The worrying trend is how the Big Food and gourmet conglomerates are successfully repackaging street food into their glossy takeaways often touting them as hygienic and safe. KFC lists its streetwise menu with their "piece of chicken cooked to golden perfection with the regular portion of pap and small gravy". For example South Africa is one of the most successful markets in McDonald's international history, while in India a street food delicacy, the "aloo tikki burger"(made with a potato mash patti, peas and spices) was plagiarized to deliver a formula that became a commercial hit with its consumers. Then again the affordability of street food does come with its own deficits. Traditional backyard surplus items like greens and offal which were often recycled to local markets for some extra income are now becoming depleting food lore. City food vendors are now increasingly procuring raw produce from local traders with seasoning ingredients bought from supermarkets and distantly sourced wholesalers.
Urban food politics thereby suggest that the marginalized are increasingly moving away from the nutritional cycle. And clearly the urban street food economy is not the only answer to ending hunger. It tends to remain a relatively cocooned livelihood system which is largely unprotected and constrained with its unharnessed real potential. At the same time, case studies from the world over have proved that urban street food vendors can be instrumental in providing nutritious "food –on-the –go". Globally, food safety workshops have successfully helped street vendors to practice personal hygiene, sanitation and safe food preparation methods. Although the importance of street food as food security for the urban poor has been well documented in academic research, new attentiveness to street food has now resulted in it being seen as "smart food" and as a respectable means of livelihood and often promoted as culinary heritage. The World Street Food Congress is one such example which not only attracts street food vendors every year but is also a serious attempt to showcase global street food by putting a strategic impetus on the food security dialogue as a whole. So while your Vetkoek can as well be the cardiac arrest in your hands, the smoking walkie talkies  keep the fire burning in many poor kitchens.
Article by Dr Arundhatie B. Kundal, a sociologist affiliated with the DST-NRF Centre of Excellence in food security, University of Western Cape (This article was first published by the Cape Times on 14 October 2015. It formed part of the CoE-FS World Food Day programme)