Date: April 26, 2023
Time: 09:30 - 12:30
Venue: Hybrid: (In-person) Bertha House, 67 & 69 Main Rd, Mowbray, Cape Town, 7700 | Online Google meeting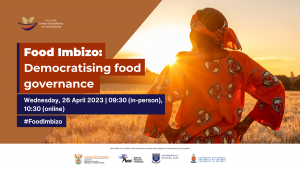 Although food systems feed massive urban populations, they also cause great harm to people and the environment. Moreover, the opportunities to participate beneficially in the food economy are uneven due to the concentration of capital and power in corporations owned and run by elites with remote shareholders. This harm disproportionately affects black people, and especially women and children. The historical roots of this unjust food system lie in value patterns laid down during colonialism and apartheid.
Despite decades of postcolonial political reform, colonality shapes modern corporate food systems and neoliberal governance arrangements. The systems of knowledge and power that shape decisions about the food system privilege Western, eurocentric ways of thinking. These are informed by ideas of modernisation and development which promote malls, supermarkets and processed foods. These ideologies sideline informal and indigenous/local systems of food production, processing and retail.
Democratising food governance means developing new, more inclusive ways to collectively generate knowledge and make decisions about the food we eat, the way it is grown and how we access it. Research and governance of African food systems must therefore promote the agency of people most affected by the injustice and harm of the current food system.
However, this poses significant challenges in terms of legitimacy and methods:
Why should we democratise food governance? 
Who can legitimately participate in local food governance? 
Who speaks on whose behalf? 
How can we address barriers to agency such as language, technology, data?
How can governance deliberations accelerate beneficial change for the most disadvantaged?
This hybrid meeting will be facilitated with Food Agency Cape Town (FACT). This network has established a team of researchers and activists embedded within some of the most disadvantaged neighbourhoods of Cape Town. They have conducted research on local experiences of food insecurity and community needs to engage in activism for food systems change. Join us for an interactive hybrid (online and in-person) workshop to discuss these questions and learn from FACT's experiences.
Facilitator: Brian Adams
Speakers and topics:
Nomonde Buthelezi – "Sustainable food systems & destigmatizing hunger"
Vuyani Qamata – "Change in food system & climate change influence"
Busi Selana – "Rethinking community kitchen uses"
Mimi Nyaba – "Language, youth and inclusivity in food research"
Date: Wednesday, 26 April 2023
Time: 9:30-12:30
Place:
We look forward to welcoming you to the workshop.
Florian Kroll and Camilla Adelle, on behalf of the DSI-NRF Centre of Excellence in Food Security's Food Imbizo.