Date: April 28, 2020
Time: 15h00 - 17h00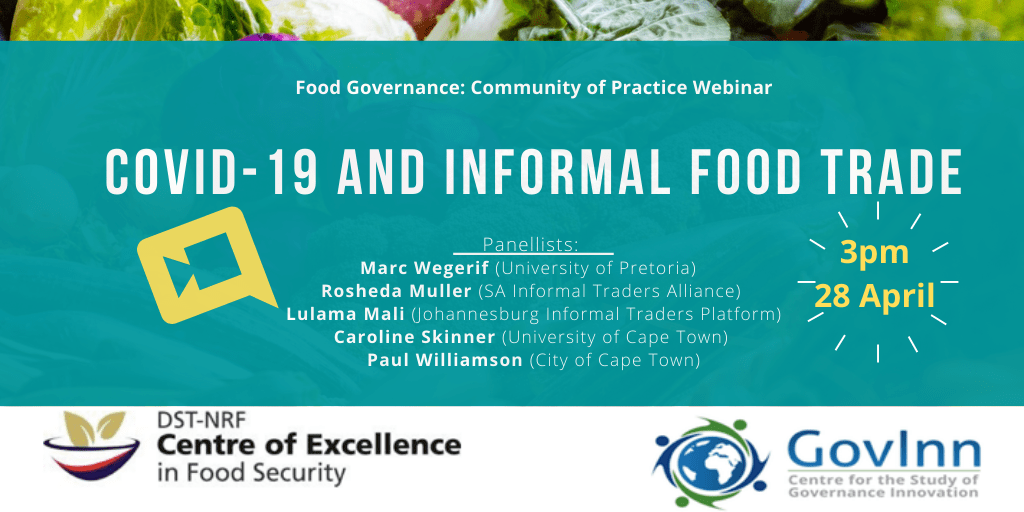 The government's COVID-19 lockdown regulations have caused severe disruption to South Africa's food system. Almost immediately negative impacts were evident on the ability of the informal food sector to operate and poor people's access to food. The informal food sector in South Africa includes spaza shops, bakkie traders, street traders and hawkers, and is worth around R360 billion a year. Around 70% of households in poorer neighbourhoods source food from the informal sector.
While in the days that followed lockdown some provisions were clarified and slightly lifted and funds allocated for emergency food aid programmes, the further marginalisation of the informal food economy and the food insecure population continues. At the same time, the C19 crisis offers a moment of disruption through which the vulnerabilities and inequalities of the current food system are laid bare. This presents an unprecedented opportunity for reshaping the food policy space for a healthier, more equitable and sustainable South African food system.
You are invited you to participate in a Food Governance Community of Practice (FOODGov CoP) webinar to discuss the impacts of the COVID-19 lockdown regulations on informal food trade.  An initial overview will be given by Marc Wegerif (University of Pretoria), the lead author of the C-19 People's Coalition Position on People's Food Traders. This will be responded to by panellists including: Lulama Mali (Johannesburg Informal Traders Platform); Caroline Skinner (University of Cape Town); and Paul Williamson (City of Cape Town).
The meeting will take place on Tuesday 28th April 15h00 -17h00.
Reports and presentations from the previous CoP meetings can be found in this shared Google Drive folder.
For more information please contact: camilla.adelle@up.ac.za  083 260 4703.