Published June 12, 2023, by Carla Bernardo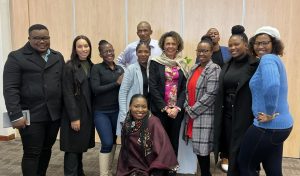 Graduates, grantees and a team member from the DSI-NRF Centre of Excellence in Food Security (CoE-FS) recently joined United Nations (UN) Special Advisor on Africa, Christina Duarte, at Stellenbosch University's (SU) Strategic Fund's "African Food Dialogues".
The breakfast discussion was hosted by the SU-based Southern Africa Food Lab (SAFL) and saw CoE-FS grantee Eden Keyster, staff member Nolutando Didiza, and graduate S'Celo Madondo join other postgraduate students for the opportunity to meet and engage with Special Advisor Duarte.
Madondo, who is now a PhD candidate with the Institute for Social Development at the University of the Western Cape said he was grateful for the opportunity.
"Interactions were highly inspirational and many of us felt more of such sessions are needed going forward for multiple, individual reasons."
Madondo, whose research focuses on food waste, also thanked Professor Scott Drimie, SAFL director and CoE-FS collaborating researcher, for "brilliant facilitation".
Continental perspective
As the African Food Dialogue took place at the end of the African Union's Africa Month, Special Advisor Duarte provided a continental perspective on strengthening agro-food systems, health, and social protection for the acceleration of human, social, and economic capital development. Her emphasis was on the emerging policy and research agenda across Africa.
In addition to her role with the UN, Special Advisor Duarte is also the Under-Secretary-General in the Office of the Special Adviser on Africa (OSAA). The OSAA "works with all parts of the UN system in an effort to ensure coherence in the critical work of the UN on the inter-related issues of peace, security and development in Africa".
In her OSAA role, Duarte supports the Secretary-General in promoting coherence in the UN system's engagement in Africa, and chairs the Inter-Departmental Task Force on African Affairs. She also advocates and mobilises the UN, its member states and other key stakeholders around Africa's transformative vision articulated in the 2030 and 2063 Agendas.
Before joining the UN, Duarte served as Cape Verde's Minister of Finance and Planning for 10 years. She has also served as director of a World Bank reform programme and Vice President of Citibank, giving her valuable exposure to the functioning of international financial systems.
Inspiring change
Host of the discussion, the SAFL is an initiative of the Faculty of AgriSciences at SU. Facilitated by the SAFL, the aim of the "African Food Dialogues" is to "bring together diverse, influential stakeholders in Southern Africa's food systems to respond to systemic issues in creative ways and to inspire change in how we think and act on complex social challenges".
Previous speakers have included Wageningen University's Professor Ken Giller; Professor Ferdi Meyer, managing director for the Bureau for Food and Agricultural Policy; and Professor Tafadzwa Mabhaudhi, co-director of the Centre for Transformative Agricultural and Food Systems at the University of KwaZulu-Natal.