Published December 3, 2019, by Mologadi Makwela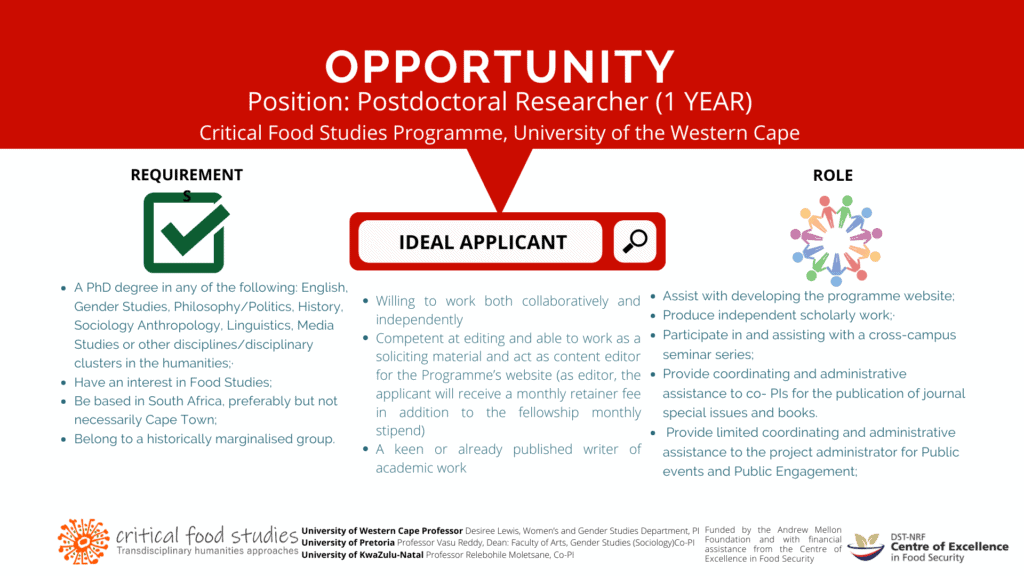 Applications are invited from South African PhD humanities graduates for the position of postdoctoral researcher in a Trans-Institutional Critical Food Studies Research Programme.
The applicant must be:
Willing to work both collaboratively and independently
Competent at editing and able to work as a soliciting material and act as content editor for the Programme's website (as editor, the applicant will receive a monthly retainer fee in addition to the fellowship monthly stipend).
A keen or already published writer of academic work
The applicant should:
Have a PhD degree in any of the following: English, Gender Studies, Philosophy/Politics, History, Sociology Anthropology, Linguistics, Media Studies or other disciplines/ disciplinary clusters in the humanities;
Have an interest in Food Studies;
Be based in South Africa, preferably but not necessarily Cape Town;
Belong to a historically marginalised group.
Specific roles are to:
Assist with developing the programme website;
Produce independent scholarly work;
Participate in and assisting with a cross-campus seminar series;
Provide coordinating and administrative assistance to co- PIs for the publication of journal special issues and books.
Provide limited coordinating and administrative assistance to the project administrator for Public events and Public Engagement;
General Remarks
Critical Food Studies is a developing interdisciplinary field in the humanities/social sciences that explores food as a lens for understanding –  inter alia – various forms of literary and cultural representation, the performance and construction of social subjectivities and identities, the intersection of global and local cultural contexts and practices. Although it would be advantageous for applicants to have some experience with or knowledge of this field, previous work in the field is not essential. Applicants must, however, be keen to pursue this work during the period of their fellowship.
Period: 1 year
Starting date: Negotiable 2020
Mellon postdoctoral Fellowship amount: Approx R20,000 pm
Additional retainer fee for website editing: Approx 7 000 p/m.
How to apply: Send a CV, proof of PhD graduation, letter of motivation and sample of writing to the following emails:
criticalfoodstudies@uwc.ac.za and foodpolitics@gmail.com