Published May 10, 2023, by Carla Bernardo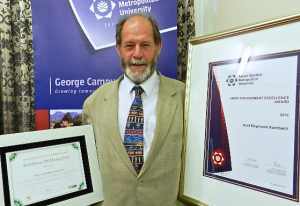 Professor Raymond Auerbach has been elected as the Council President of the Technology Innovation Platform (TIPI) of the International Federation of Organic Agriculture Movements (IFOAM), which "fosters international collaboration on research for organic agriculture" and "engages all organic stakeholders who benefit from such research".
Professor Auerbach, who is based at the
Nelson Mandela University
(NMMU), has worked with the DSI-NRF Centre of Excellence in Food Security (CoE-FS) since its inception in 2014. He is an Extraordinary Professor at the
University of the Western Cape
(UWC), the host institution of the CoE-FS, a peer-reviewer of the CoE-FS's work on agroecology (most recently having contributed to
earlier drafts of this report
), and serves on the board of the
Agricultural Research Council
, with whom the CoE-FS has a collaborative project.
During his time as project lead for the CoE-FS, Professor Auerbach has led the "Food sovereignty and organic farming" and "Vegetable production in community-operated Agriparks" projects. Through his work, and that of these CoE-FS-funded projects, capacity building and partnerships have included:
Placement of NMMU students in the Western Cape Government's Department of Agriculture, where they received experiential training and support for their research
The development of an urban Agripark in the Eden District Municipality
The Participatory Guarantee Systems (PGS) Association of South Africa trained farmers in quality management so that they can enter high-end markets with "Organically Assured" produce.
Professor Auerbach's international collaboration included working with the Carl von Ossietzky University in Oldenburg, Germany, and the Institute for Climate Change Adaptation in Dar es Salaam, Tanzania on a joint approach to reducing the vulnerability of small-scale farmers to climate change.
While serving as CoE-FS project lead and researcher, Professor Auerbach continued his work as an expert technical assessor for the South African National Accreditation Service; as treasurer of the South African PGS Association; as chair of Eden PGS; a board member of the Stellenbosch Sustainable Agriculture Study Committee and Extraordinary Associate Professor at the Sustainability Institute at SU; and as member of the Network of Organic Agricultural Research in Africa.
And in 2018, a CoE-FS grant was awarded to Professor Auerbach to assist with the publication of a book, "Organic Food Systems: Meeting the needs of Southern Africa". The book comprises six chapters on global perspectives and conceptual frameworks, 12 chapters reporting on the research of his work and that of his postgraduate students, and two chapters that look at the role of urban and peri-urban food production in Africa and at a sector plan for the South African organic sector.
To find out more about Professor Auerbach's work with the CoE-FS, click here.