Published September 29, 2017, by Mologadi Makwela
Local and international food scientists, experts, students and members of industry gathered at the South African Association for Food Science and Technology's (SAAFoST2017) international congress, recently held in Cape Town.
Themed "A hunger for change: innovations, solutions and emerging technologies,"  the three-day event featured presentations covering a range of topical issues ranging from creating SMART food for the future, expiry dates on food – related to which is food waste; to the sugar tax, food fraud and genetically modified food.
In his presentation on 'SMART foods for the food insecure', CoE affiliate and University of Pretoria based Professor Naushad Emmambux argued that "SMART foods can contribute efforts to address the challenges of ensuring nutrition & food security". 'SMART' stands for: smart, marketable, affordable, ready to eat and trendsetting.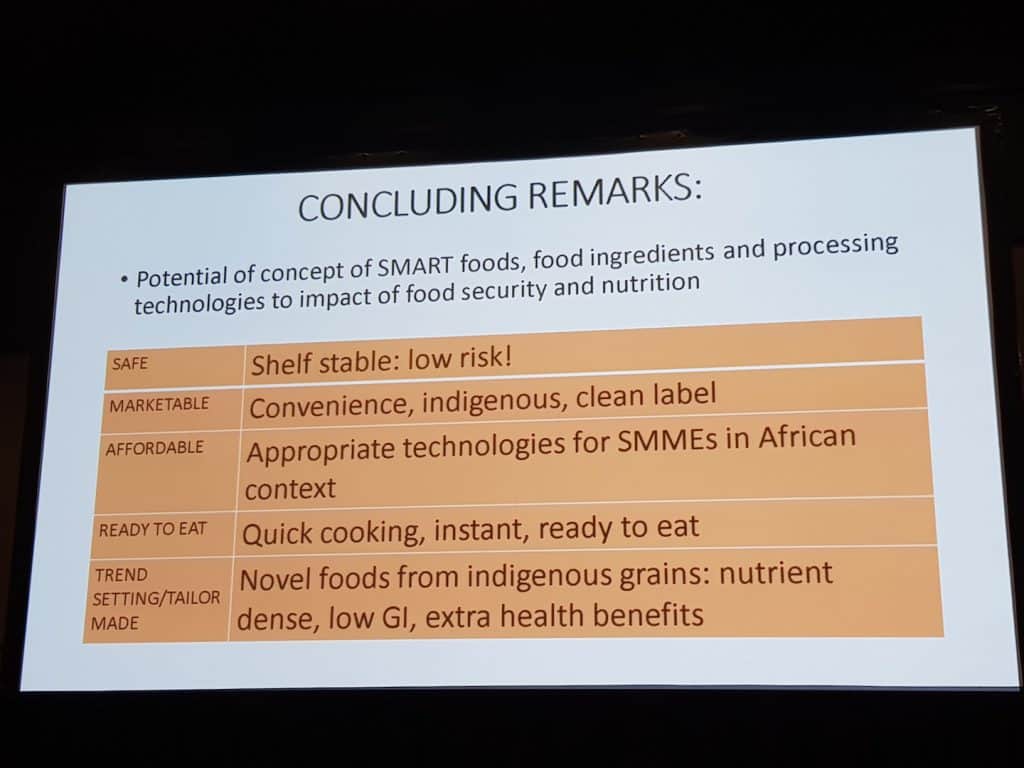 Emmambux and his a team of researchers are investigating food processing technologies to create and process 'SMART' foods and food ingredients that have been enriched to combat malnutrition and diet-related non-communicable diseases.
Food waste also came under the spotlight with researchers arguing for better consumer education around food labeling, and in particular, helping the public to better understand the various types of food labeling. Chris Findlay cautioned that current levels of food waste are not sustainable, adding that food waste would affect food security needs of future generations.
The need for consumer education was also highlighted during presentations about the increase in food fraud. Food fraud continues because product descriptions not easily understood by the lay consumer, explained Janusz Luterek.
In his talk titled: 'Food Fraud, pseudoscience and ethics', Dr Harris Steinman argued that deceptive marketing methods misrepresent clinical studies, and companies are profiting from the ignorance of consumers.  "To sell something that does not work to people who don't understand is clearly unethical," he argued.
Similarly, UCT's Jaques Rousseau argued that "we are prone to confirmation bias, but one of the things we should be panicking about is how ignorant we are." Focusing on arguments that sugar is addictive, Rousseau said: "If substances caused addiction, treatment would work better. The problem is not the substance. Substances on their own do not cause addiction. People who binge on sugar have poor impulse control."
Although there is agreement that sugar is a major contributor to obesity, according to food scientist, Nigel Sunley, a major study into effective strategies to combat obesity worldwide had put a sugar tax quite far down the list. At the top of the list is portion control – smaller cans of fizzy drinks, and reformulating foods to be less fattening. Nevertheless, Sunley conceded that industry's response to helping to combat the obesity crisis has been abysmal.
The key message from the Congress was the need to gather all role players around the same table and find practical solutions to tackle the food challenges we face today, to ensure and protect the food and nutrition security of future generations.