Published December 15, 2021, by Mail & Guardian
Child malnutrition during pandemic is slow violence, say researchers.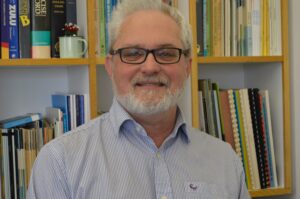 As more data comes to light about how the pandemic has affected the country beyond health impacts, it's clear that children have been affected significantly, particularly in terms of food security.
Professor Julian May,  Director of the Centre of Excellence in Food Security at the University of the Western Cape, called the state of child malnutrition a slow violence "because here we are talking about changes which are often not observed, but which are damaging over a lifecycle and which are damaging to a society".
Childhood stunting for those under five years old has persisted since the 1990s. "Ultimately, child stunting is essentially flatlined," May said. "We've made no progress." This is the case despite the significant increase of the Child Support Grant reaching millions of children since 1998, and South Africa adopting similar strategies to countries that have had declines in child malnutrition, such as Brazil.
Trends in terms of undernourishment, hunger, adult obesity and anemia in women all declined over recent decades, and then dipped up fairly significantly since the pandemic. May said: "So that, then, is our concern. We have the largest social protection system in Africa, but we continue to have a high prevalence of stunting."
The pandemic has impacted children and their access to food in a myriad of practical ways. This included the closure of schools and Early Childhood Development programmes, and a rise of about 14% in food prices towards the end of 2020.
Rising unemployment, restrictions on informal sector street hawkers, and the withdrawal of caregiver and top-up grants has had a direct effect on children. Disruption to routine health services and increased hesitancy to access primary health care is also linked.
The Centre of Excellence in Human Development has done a cohort study of women in Soweto, which revealed worrying results that may feed into child malnutrition. Director Shane Norris said: "One alarming area of data that's emerging from the work we're doing is the impact of Covid-19, directly and indirectly, around women's access to maternal child health services."
Women are generally going to antenatal clinics later and less often than usual, despite these services being well-used in urban areas before the pandemic. There is also a hesitancy to visit Baby Wellness Clinics. About 10% of the pregnant women in the study terminated their pregnancies; reasons directly or indirectly linked to the pandemic were frequently given during the counselling process.
"And this is an important part, to understand that the pervasiveness of the pandemic is going to have a multiple rate of effect on behavior and consequences of those changes in behaviors."
This is all in the context of how paradoxical the food system in the country is. On the one hand, South Africa has a positive food balance and the capacity to import, sophisticated science and innovation programmes as well as advanced food policy. However, there is still an overall poor nutrition record, with under- and overnutrition continuing as well as persistent food insecurity.
May said that what can be learned is that "the bottom line of our message is to put children at the heart of the food system". Interventions to this may include a focus on making healthy food available, affordable, acceptable, desirable and sustainable by focusing action across humanitarian relief, job and social protection, the agri-food industry, retail, and schools.
To read the this article in full, please visit the Mail & Guardian.