Published November 17, 2016, by Mologadi Makwela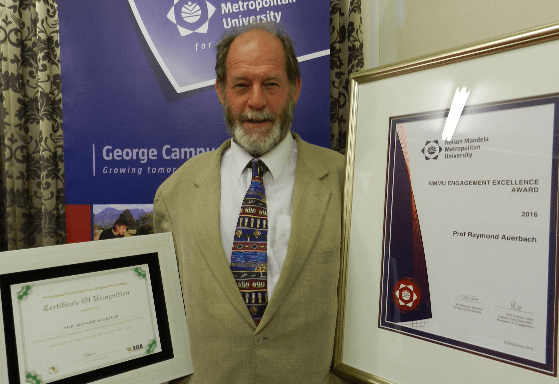 Photo credit: NMMU
Professor Raymond Auerbach, whose research focuses on organic farming systems and food security in South Africa and elsewhere on the African continent, is the recipient of the prestigious Nelson Mandela Metropolitan University's (NMMU) "Engagement Excellence Award".
Auerbach is an Associate Professor in Soil Science and Plant Production at NMMU's School of Natural Resource Management at the George Campus. This is the second year in a row that NMMU acknowledges Professor Auerbach's outputs.
In 2015 he also walked away with an Engagement Award for his work with local gardeners and planning of an AgriPark. Also in 2015, the African Union Commission in Nigeria presented Professor Auerbach with a Certificate of Recognition, in recognition of his lifelong contribution as champion of ecological organic agriculture in Africa.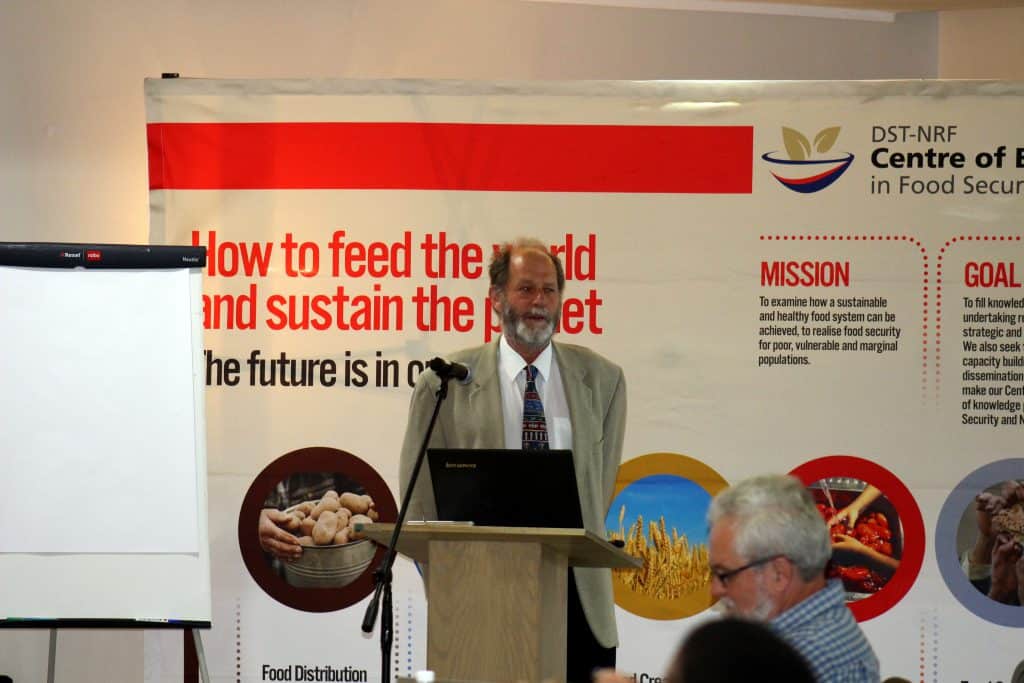 Prof Auerbach, a champion of ecological organic agriculture in Africa – presenting at the 2016 CoE World Food Day Event
Commending Auerbach on his achievement, Professor Quinton Johnson, Principal of NMMU's George Campus described him as a "sustainable futures leader" for his tireless work on helping find solutions to address the challenges associated with food security.
Professor Auerbach recently presented on "How can we address broken world food systems?" during the World Food Day Panel discussion organized by the CoE and partners. He was also among global experts who participated at the World Public Health and Nutrition Conference recently held in Cape Town, and co-hosted by the CoE in Food Security.
His research at the CoE looks at food production, value chains, environmental impacts of agriculture, climate change, quality management and AgriParks.
Read Professor Auerbach's recent article on Organic Farming published in The Conversation – Africa, available here.