Published April 6, 2016, by Julian May

This month marks the two-year anniversary of the launch of the DST-NRF Centre of Excellence in Food Security (CoE-FS). Much has been achieved since the Centre was launched on 15 April 2014, and much more work is underway to make this the leading hub of knowledge production on Food Security and Nutrition.
We recognise that the food system comprises a large number of mutually interacting sub-systems, complex in their arrangement and characterised by interdependence. Although this is reinforced with multiple feedback loops, interactions between the parts are not simple and change is non-linear. As a result, the system is vulnerable to internal and exogenous forces, which transform, disrupt or destroy its parts, its sub-systems or the system itself.
Food security and nutrition is one outcome of this dynamic system.
Research activities undertaken during 2015 led to the development of a heuristic framework through which the food system can be understood. This grew out our initial work on 'mapping the food system', 'mapping the policy landscape' and understanding 'pathways to the plate'.
However, (re)solving a problem such as food security, which involves multiple stakeholders who have different understandings of what the problem is, and whose assessment of possible solutions will vary depending on their interests, requires particular forms of enquiry and organisation. Thus, following our first attempt during the formative stage of the Centre in 2014, we have now reconfigured the organisation of the CoE-FS.
We have retained the four initial Thematic Areas that represent different food sub-systems. These were previously led by Programme Principal Investigators (PPIs) drawn from the Hosts and consortium partners based on relative strengths in each area. They remain: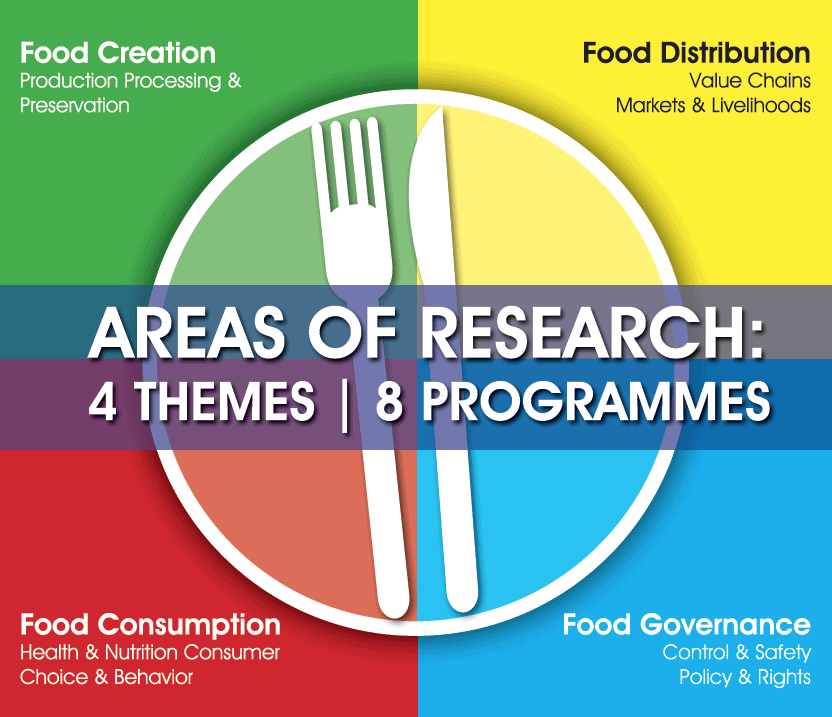 Each theme represented two Programmes of research, which have now been reconfigured, to avoid duplication; conduct holistic research, create better synergy between and across themes, and, enhance multi-institutional collaborations.
From 2016, our research activities will be organised around six research problems; each led by our existing PPIs. Each problem is to be addressed through a programme of research comprising projects that straddle the four Themes, and which can vary in scope and complexity.
Thus, for 2016 – 2018, our work will focus on the following research problems:
What are the structure, dynamics and influences on the South African food system and how is this changing? (Systems)
What technological and enterprise innovations will build livelihoods and food security in the food system? (Innovation)
What food is on the plates of South African consumers and what pathways were followed to bring this food to the plate? (Plates)
What food safety hazards exist that affect food security and how can these be best managed? (Safety)
Why has child malnutrition persisted in South Africa? (Children)
What governance and policy reform is necessary to ensure sustainable food security and nutrition? (Policy)
In addition, the CoE-FS has expanded to include a research programme on the Humanities and Food Insecurity funded by the Mellon Foundation and a South Africa/United Kingdom Research Chair in Social Protection and Food Security. These programmes are still formulating their activities and will contribute to the revised focus and direction of the Centre.
In addition, the Centre received research grants from the Programme to Support Pro-poor Policy Development in the Office of the Presidency, the Global Alliance for Improved Nutrition and the Office of the Premier, Western Cape Government. Additional funds have also been leveraged by individual Project Leaders. These will be expanded on in the coming months as research work begins to take shape.
The year ahead looks busy but exciting. For example, Centre is co-host of the second edition of the World Public Health Nutrition Association's World Nutrition Congress, taking place at the University of the Western Cape from 30 August – 2 September 2016. Lead researchers and students are expected to participate and contribute to discussions at the conference.
We are also proud to announce the launch of our official website www.foodsecurity.ac.za through which we will be communicating and engaging with various stakeholders about activities taking place at the CoE-FS.
As a multi-institutional and multidisciplinary research Centre, our vision is to become a global leader in research, capacity building, knowledge brokerage and service provision in food security and nutrition in Africa. We can achieve this through collaborations and engagement with outstanding institutions, scholars and stakeholders on the continent and elsewhere.
We invite you to interact with us on our various platforms including the website and social media pages @FoodSecurity_za (Twitter) and @FoodSecuritySA(Facebook).