Published November 30, 2017, by Mologadi Makwela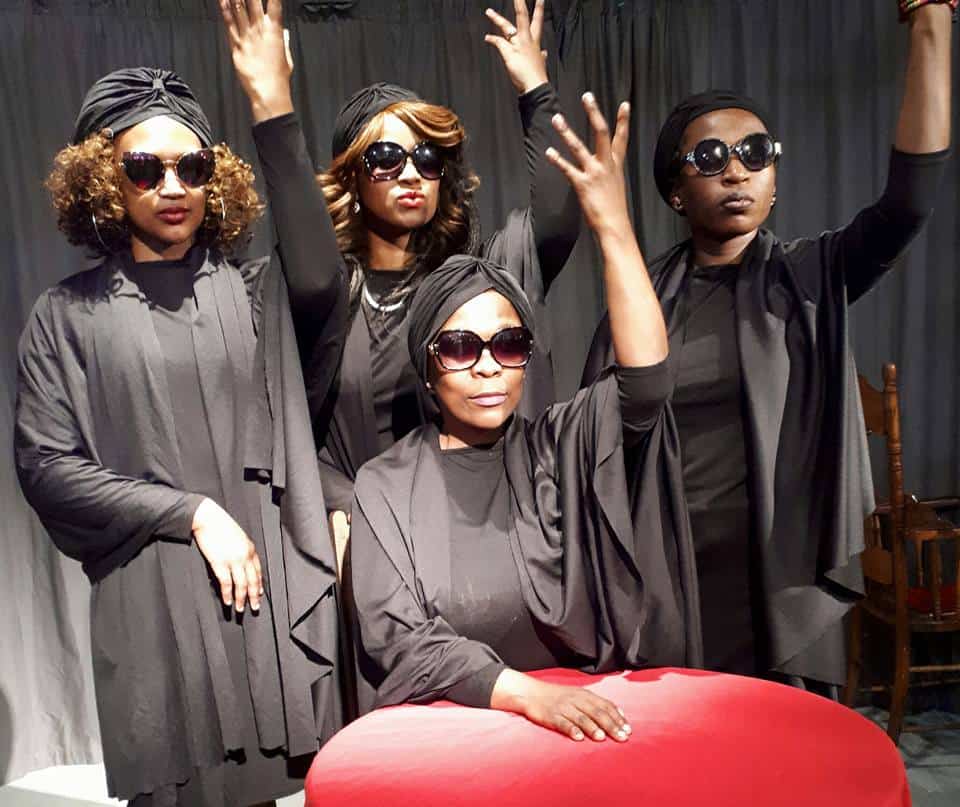 1 – 9 December 2017, 20h00, AFDA Theatre 228 Lower Main Road, Cape Town
The complex dynamics of food insecurity, nutrition and hunger will play out on stage this December, in a new theatre production written by renowned South African playwright, Mike van Graan (State Fracture, Pay back the Curry, Green Man Flashing, Brothers in Blood).
Described by Van Graan as "a dark comedy about funerals, feeding and faking", Another One's Bread serves up the complexities associated with acquiring food and nutrition using humour, fact and the downright outrageous.
Commissioned by the DST-NRF Centre of Excellence in Food Security (CoE), the play explores various themes related to hunger in the context of the relationships between four women. What keeps these disparate women together is their membership of 'The Substitutes', a group of professional mourners, who collect leftover food at funerals for school lunches.
Directed by Pamela Nomvete (currently making waves in the television series, Lockdown), the production boasts an all female cast featuring Faniswa Yisa, Chuma Sopotela (recently announced as the 2018 Standard Bank Young Artist for Performance Art), Motlatji Ditodi, Awethu Hleli and Mokokobale Makgopa as stage manager.
The play takes its title (Another One's Bread) from the Afrikaans expression "een man se dood is 'n ander man se brood" (One person's death is another person's bread). "Like every other theme in South Africa, hunger intersects with a range of other issues – gender, class, apartheid's spatial geographies, education and corporatisation of services to name but a few," explains van Graan.
The play falls within the CoE's Food Contestation thematic area of research which – through the Food Politics and Cultures, as well as the Symbols research projects – explores human relationships to food, the power dynamics around food production and access and the meanings that food acquires in particular cultural and social contexts.
CoE Director, Professor Julian May said: "The specific goal is to research the human, cultural, ethical and spiritual environment within which barriers and opportunities to the achievement of food security and nutrition take place. In particular, a goal of the project is to increase our understanding of the role played by gender, identity and power in the food system."
Another One's Bread promises to entertain and provoke during this short Cape Town run from 1 – 9 December 2017 (except for Sunday 3 December) at the AFDA Theatre, 228 Lower Main Road, Observatory at 20h00 nightly. The play heads to the Market Theatre in January 2018.
Tickets and info:
Seating at the AFDA Theatre is unreserved and since the theatre is not linked to a ticketing agency, tickets (R100 each) may be purchased at the door (cash only) or by making an electronic transfer to MVG Productions, Standard Bank, 070331871. As a reference, use your name and the date of the performance for which you have booked e.g. P. Nomvete 4 Dec. (From the amount paid, we will see the number of tickets purchased). Alternatively, you may book by sending an email to mikevgee@gmail.com with your name, the date of the performance you would like to attend, and the number of tickets required, and then pay on arrival. As an option, also include your mobile number for more immediate communication. Should you make an EFT as above, you may also send an email to confirm your payment and details of your booking.