Published May 4, 2016, by Mologadi Makwela
In the midst of rising food prices coupled with (potentially) the worst drought the country has ever experienced, food security research in South Africa has received a much-needed boost, thanks to the Newton Fund and National Research Foundation (NRF) UK-SA Bilateral Research Chair initiative (SARChI).
"Food insecurity is not caused by lack of food at national level, but by a lack of access to food at the individual level, mainly due to poverty," says Dr Stephen Devereux, the SARChI in Social Protection for Food Security. Dr Devereux is also Research Fellow at the Institute of Development Studies (IDS) at the University of Sussex in Brighton, UK.
"One response to food insecurity is social protection, which improves access to food for the poor, either by giving them food or by raising their income," adds Dr Devereux. Yet, despite South Africa's extensive and expanded social protection system, food insecurity and malnutrition remain highly prevalent, with an estimated one in four South Africans being food insecure.
The SARChI will address questions on why food insecurity in South Africa remains so high, despite the comprehensive social protection system and; how can the impact of social protection on hunger be improved? The UK-SA Bilateral Research Chair initiative is a National Research Foundation (NRF) joint programme implemented through the British Council. The initiative aims to help strengthen research and innovation capacities in SA and the UK and to promote International exchange and cooperation.
Dr Devereux will be based at the University of the Western Cape's (UWC) Institute for Social Development, and affiliated to the DST-NRF Centre of Excellence in Food Security (CoE-FS). The CoE-FS's network spans 12 local universities, seven international partners, and two research councils. "This SARChI presents an opportunity to further widen our network and create new linkages to expand the reach of the Centre. Specifically, this initiative symbolises the importance of international collaborations as a key ingredient to responding to global socio-economic challenges," says Professor Julian May, director of the CoE-FS.
The initiative also fits well with the Centre's vision to become a global leader in research, capacity building, knowledge brokerage and service provision in food security and nutrition in Africa, achieved through collaborations with outstanding institutions and scholars on the continent and elsewhere.
About Dr Devereux
Dr Devereux has co-authored and co-edited several books, journal articles, research reports and policy papers, including four books on food security and three books on social protection. He has been an Associate Editor of the journal 'Food Security', and is a founding Director of the 'Centre for Social Protection'. He specialises in applied policy-relevant research, with a geographical focus on sub-Saharan Africa. He completed his undergraduate studies at the University of Cape Town and obtained his MPhil and DPhil degrees at Oxford University.
About the UK-SA Newton Fund and NRF Bilateral Chairs initiative
This initiative aims to help to support South Africa's transformation to a knowledge economy, boosting its International competitiveness and strengthening the country's ability to produce excellence in postgraduate research and to advance the frontiers of knowledge through knowledge co-creation. Through the initiative, SA and UK Higher Education Institutions will be able to increase the quality and production of Masters and PhD graduates by supporting research excellence in response to key socio-economic and development priorities.
The SA launch of the UK-SA Bilateral Chairs initiative took place at the British Council's Going Global Conference today. The conference runs from 3 – 5 May 2016, at the Cape Town International Convention Centre.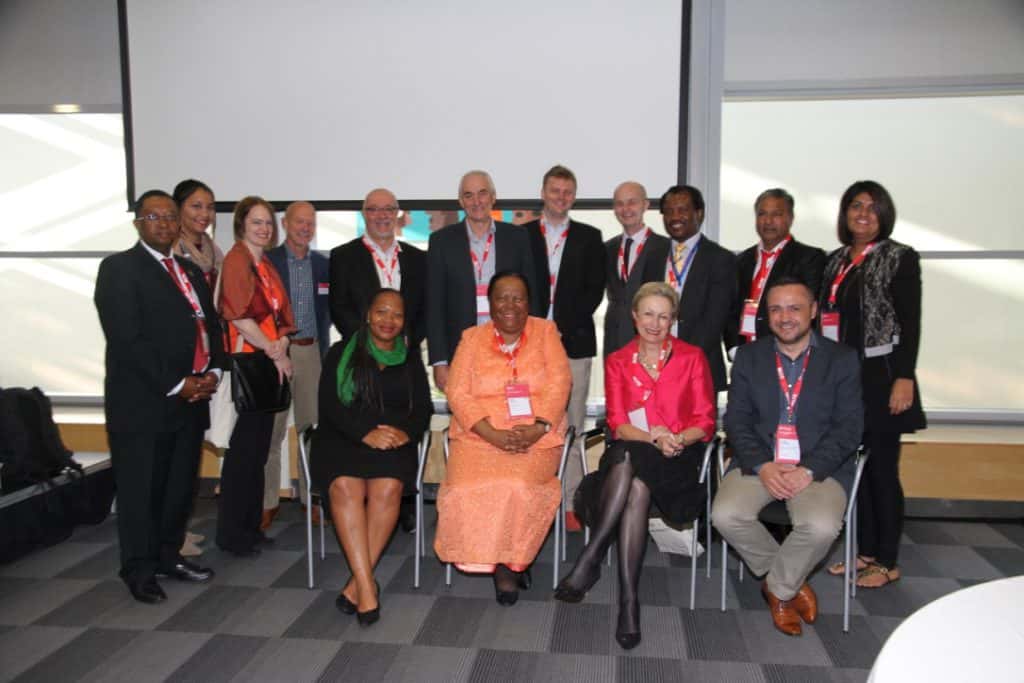 The group photo features in the front row: Professor Thandi Mgwebi, Director of Research at the University of the Western Cape, Minister Naledi Pandor, Dame Judith McGregor, and in the back row: DVC Frans Swanepoel (5th from left), Dr Stephen Devereux (behind Minister Pandor) and other SA-UK SARChIs, and members of the British Council.